NSU's men's basketball team starts the season 5-0, the first time since 2012. The teams faced thus far have not handed down the wins either. They are great competitions to start the year off with. 
"I would say our toughest game yet has been Northwestern Oklahoma State," said freshman forward Daniel Dotson. "We got in foul trouble early and some guys had to play positions we weren't used to playing, but we played hard and adapted to the circumstances and got the win."
The players did not take much time off after last season's 14-15 record which ended in a loss in the opening round of the MIAA Basketball Championship. 
"The offseason started early for us last year," said senior guard Caleb Smith. "None of us really took any time off because we knew our goals for this year."
The team goes into every game with a goal for the night, whether it be to execute a scheme or working on something off the court. The team has several goals and is confident in their ability to reach them with this team. 
"Every game we play, we have goals for that specific night," said senior guard Kendrick Thompson. "One of our team goals is to be one of the best defensive teams in the country and right now we are living up to that goal. But our main goal is to go to the moon-- win a national championship."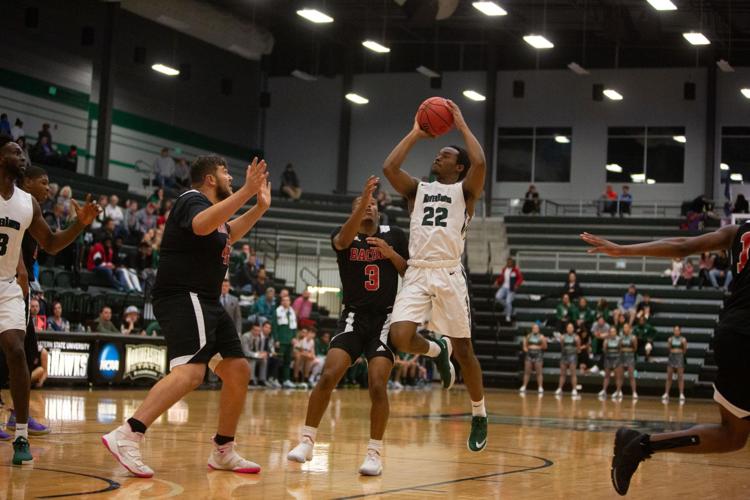 The team's chemistry has been very apparent through the start of this season. The players have been working great together lately showing strengths in their defense and communication on both ends of the floor. 
"I think our team has developed some good chemistry on the floor together," said senior guard Bradley George. "We encourage each other and quickly move on from any mistakes or struggles which shows we have a mature and experienced team."
The team prides itself on the brotherly bond they have created. Through the dedication to the team and the program, the players have built confidence and comfortability with one another on and off the court.
"We love each other and I feel like this team has a great bond," said George. "We are all committed to this program and have a lot of strengths. Creating bonds and team chemistry with each other is important and we feel like that's a big step for championship teams."
The rest of the season is looking bright for the RiverHawks. 
"We have two good teams coming up, Tarleton state Saturday and Rockhurst Tuesday," said Thompson. "If we win these two games then we will really shock the conference."
The team is looking forward to the rest of the season and is excited for the challenges that lie ahead." 
The next home game is against Southwestern Christian at 7 p.m. on Dec. 2 in the NSU Event Center.