Students who do not have access to a full kitchen can still make Christmas treats to give to friends with just a few simple things. These chocolate pretzel Christmas trees are simple to make and only require a few things most students usually have access to. 
"I watched Hunter make these trees and it was so quick and easy," said Cheyenne Mathews, Westville senior. "Finding something that students can make in the dorm but still feel like they are making those classic Christmas treats is really an awesome idea."
The recipe requires pretzel rods, green melting chocolate wafers, parchment paper and a freezer-lock bag. Sprinkles and candy stars can be used for decoration as well. If the melting wafers do not come in a microwavable container, a small glass bowl will be needed. 
"I have always been into making treats and crafting things," said Becca Limore, Muldrow senior. "These pretzel Christmas trees are such a cute idea. I have always struggled with finding things that I can make in the dorms. Plus, this is such an easy process!"
The first steps in creating these treat, prep the parchment paper by paying it out on a flat surface, big enough for as many trees as wanting to make. If the pretzel rods are too long for just one tree, breaking them in half will make them the perfect size. Once the rods are spaced out three inches apart from each other, it is time to melt the chocolate.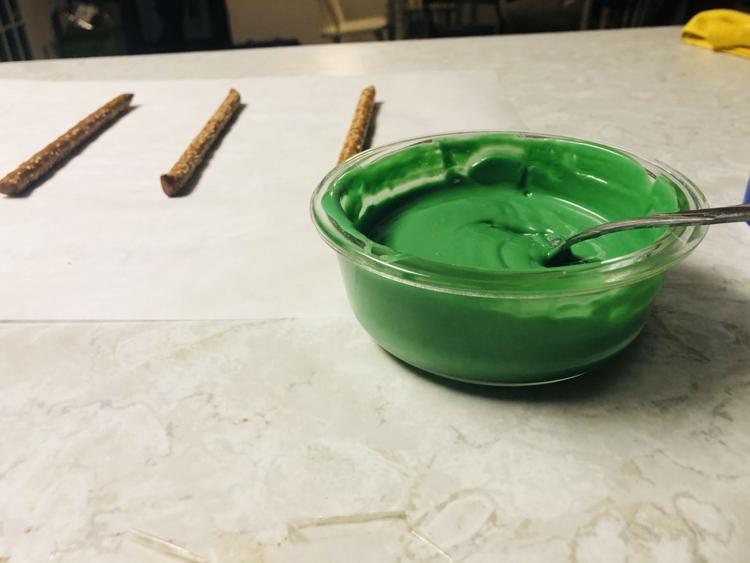 Put the wafers in the microwave for 30 seconds and mix, repeat the process until the chocolate is runny enough to drizzle onto the pretzels. Pour the chocolate into the freezer bag, then cut a piece off of the bottom corner. Starting from the top of the pretzel, work downwards in a small zigzag pattern, getting bigger the closer it is to the bottom of the pretzel. Continue this with each pretzel rod until they are all trees or the chocolate has run out. 
"Just watching that process seemed so easy," said Jordan Balmer, Christmas tree treat recipient. "I knew you were making it, but I did not realize how fast that would be."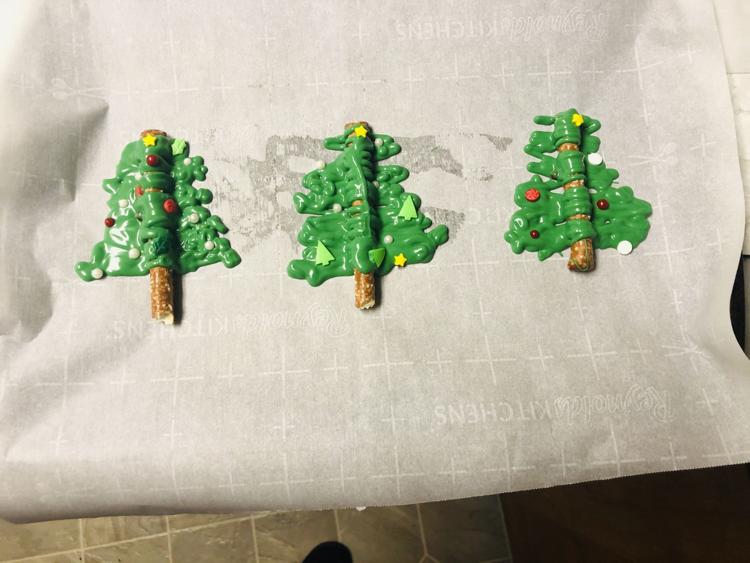 Decorating the trees does not require perfection. Placing the sprinkles to look like lights or just sprinkling them on will do. The sprinkles used in this process had stars, so they were placed on the top of the tree to represent the classic star tree topper. 
After the trees are decorated, either place them in a fridge or let them sit out to cool. Once they are fully cooled, they can be handed out or put in a bag for later.
Everything used to create these Christmas trees was found at Walmart for about $15. This cheap and easy way to make Christmas treats are dorm-friendly, with little cleanup time and the idea was found from different Pinterest articles.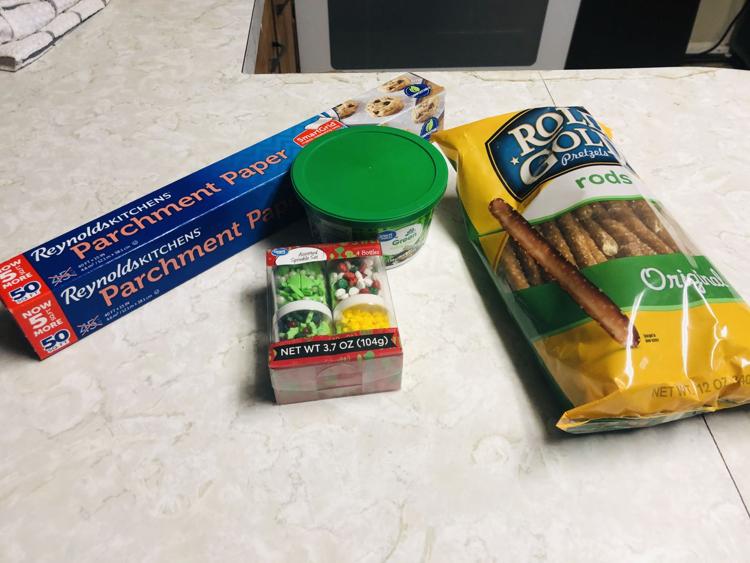 Below is the full list of ingredients to make 10 Christmas tree treats.
10 pretzel rods

1 cup green melting wafers

Sprinkles of choice

10 candy stars